Angela | Keeping the Faith
Disclaimer – I am not a doctor, nutritionist, or professional fitness guru. I am sharing what I've learned through research and experience; you all must use your own judgment in deciding what is best for you and your own health, including checking with your doctor before beginning any exercise or dietary program.
One the biggest mental hurdles in my early days of pulling my health back together was working out my relationship with food. Heck, I didn't even know that I had a relationship with food, but once I figured it out, I discovered that it was a pretty intimate one.
My brain knew that food is just fuel for living. Nothing more. However, at some time during those years of not paying attention, food became so much more me. I was eating for pleasure, and comfort. I turned to food as a crutch when I was anxious or sad. I rewarded myself with food, ate when I was bored. I was using food as my support for everything!
Food had become my answer to everything.
But it's not. Food is simply, Food. Food is not love. Food is not emotional support. We certainly don't need to eat for all the reasons I listed above. We need it because it is fuel for our bodies, our amazing, strong and wondrously made bodies! As good stewards of our selves, we need to fuel ourselves with a healthy diet of real food.
It can be scary to step away from processed food. It' so convenient, so tasty! It's also loaded with fat, salt and sugar, the wicked trifecta of poor nutrition. We are so used to eating a certain way that we rarely think about what we're actually putting into our bodies. Adopting a healthier diet means actually waking up and paying attention to what's on your plate.
Eating real food doesn't have to be overwhelming. If you want to adopt healthy habits for you and your family that will last, the easiest way to do it is by making small, gradual changes that ease the processed food out of your pantry, refrigerator and freezer.
What Should You Be Eating?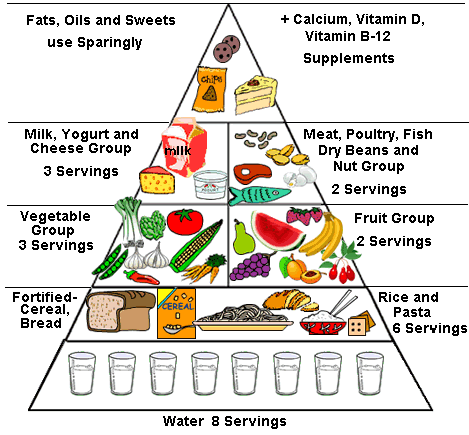 There are hundreds of opinions out there, ranging from Paleo (meat and veggies only) to an Atkins type diet (high protein/fat low carb) to vegetarian. My personal favorite is the tried and true Food Pyramid, Yes, the same one we learned when we were kids.
From the bottom up: 6 servings of grains, 3 servings of vegetables, 2 servings of fruit, 2 servings of dairy products, 2 servings of protein, and sparing amounts of fat and sugar.
But how much is a serving? And exactly what are these food groups?
Whole Breads and Grains, Rice, Potatoes, Pasta, Oatmeal 1 slice of bread
½ cup of cooked rice, pasta or cooked oatmeal
1 ounce of dry cereal
4-6 crackers
Vegetables – leafy, green, red, orange and yellow 1 cup leafy vegetables
½ cup other vegetables, raw or cooked
Fruit – apples, citrus, berries 1 medium apple, orange or banana
½ cup berries
½ cup cooked fruit
Milk, yogurt, cheese and other calcium rich foods 1 cup of low fat milk or yogurt
1 ounce of cheese (about the size of a domino)
1 slice of cheese 1/8" thick
Protein – meat, poultry, fish, dried beans, nuts, eggs 2-3 ounces, a piece about the size of a standard deck of playing cards
½ cup cooked beans
2 Tablespoons of peanut butter
1 egg
1/3 cup of nuts
Fat and Sugar Limited quantities only! Really limited, as in less than one serving a week
Do you recall the "measure your food" suggestion from last week? I'm repeating it here – take some time to measure your servings, especially the bread and grains. A serving of pasta is ½ cup cooked. ½ cup! That's not a whole lot, my friends.
Where to Start?
Begin at the bottom of the pyramid with the grains, rice and pasta and the vegetables and fruit. Ditch the white food in your diet and replace it with whole grain goodness. Serve wheat bread instead of white, substitute brown rice for long grain white. Opt for whole wheat pasta. Work more servings of vegetables and fruit into your day. Have celery and carrots with hummus for snacks. Eat a spinach salad with dinner. Add diced peppers to your scrambled eggs. Make sure you select a variety of colors (dark green, red, orange, etc.) to get the most nutrients per bite. Add some shredded carrots and zucchini to your muffin batter or top your pizza with fresh tomatoes, for example. Add some sliced bananas to your cereal in the morning or have an apple with peanut butter for a snack. Fresh berries and yogurt make a great summertime dessert.
As you adapt to eating real food, you will find that your food preferences will gradually change over time. When you cut out high-sugar, high-fat processed food, your cravings for it will actually go away in time. Really! It takes several weeks, but the cravings do go away.
One of the biggest challenges to eating healthier is finding substitutions for existing foods in your diet and finding things that the family will eat. Here are some of the other things I did during my transition.
•Stop using mayo and switched to mustard on sandwiches and burgers.
•Start using extra lean ground beef, pork tenderloin or fish instead of high-fat cuts of meat. Bake, grill or broil – no fried anything. (It's a mess to clean up, anyway!)
•Use olive oil instead of corn or canola for cooking and baking.
•Quit drinking calories. I stopped drinking juice completely, and gave up sweetened coffee drinks (Goodbye Starbucks Caramel Macchiato!) I drink my coffee black now.
•Switch to skim milk. I gradually weaned the family down from whole milk over several weeks. I switched them over to the lower fat milk every two weeks. For example: I bought 2% milk for two weeks, then moved to 1% for two weeks, then weand to skim.
•Toss out the sugar sweetened cereal and serve whole grain unsweetened varieties, like Cheerios, Shredded Wheat and the like. Make your own granola.
•Switch from full-fat cheeses to reduced-fat or fat-free cheeses.
To be perfectly honest, my family didn't even notice most of these changes. Growing teens are hungry all the time, and if I put food in front of them, they ate it. They did balk over the wheat bread at first, but when it was the only option in the pantry, well, they learned to like it!
Cut the Junk
I don't keep junk food in our home. I do not regularly buy candy, cookies, chips, soda, cakes, pizza, ice cream, etc. At first, it was just too much of a temptation for me. I could not have it around and not eat it. It's not so tempting any more, but I still don't bring it home. Yes, I still have teens at home and a husband, but they don't need junk food either! This isn't to say that we never eat these things. We just don't eat them very often, maybe once a month. We have always had a no soda rule. The only days our kids are allowed to drink soda is on their birthday and on the Fourth of July. (Same rule my Mom had when I was growing up!) It's working – Cherry Ames and Princess Pea still don't drink soda, and they buy their own groceries at college. I don't purchase pre-packaged meals. I taught all of the kids how to cook and most of our meals are prepared at home from scratch using fresh ingredients. We rarely eat in restaurants, and never eat fast food. NEVER.
Note – At first, my teens did a lot of complaining about the lack of junk food coming home from the grocery store, so I set a house rule. I will buy them all the fruit, veggies and whole grain snacks they want. If they really want to eat something that is nutritionally vacant, they can buy it themselves with their OWN money. So strange how they suddenly lost their appetite for sugary snacks!
I could ramble on for hours on the merits of eating healthy, real food. My entire family has benefited from my healthy lifestyle change efforts. My goal is for my children leave our home knowing how to cook and how to eat properly so they can in turn be good stewards of their own selves. (They will also leave our home knowing how to wash dishes, do the laundry, mop a floor and clean a toilet, but that's a story for another day!)
Eat Real Food! Keep the Faith.
Next Week – Drink Up!
Angela Pea lives in Texas and has been married to Mr. Pea for 27 years. She has two adult daughters, Cherry Ames, who is almost finished with nursing school, and Princess Pea, who resides in Aggieland and is studying to be an orthodontist. Her two teenage sons, The Architect and DirtBike, still live at home, where they mostly eat everything in sight and build bicycles from random parts. She is a practicing civil engineer, occasional college instructor, random knitter, beginner mountain biker, incredible cook, and a secret shoe lover. Angela blogs at
Keeping the Faith
.